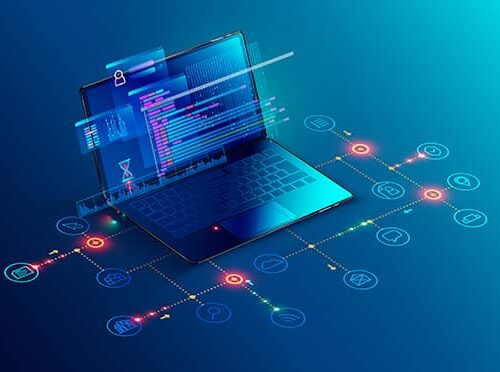 DEPARTMENT OF COMPUTER SCIENCE & ENGINEERING
Today's economy is emerging to be a data driven one. With increasing digitalization, the contemporary businesses, industries and even the prominent areas of research require specialists in the field of Data Science. Data Science concerns with complete lifecycle of data right from data generation to final actionable inferences with several intermediate steps such as data processing, reporting, prediction, visualization. Data Science leverages science of Data Analytics with the upcoming technologies like Big Data, Machine Learning and Cloud Computing.
Department of Computer Sci. and Engineering with Data Science is a four year full time undergraduate program to impart skills and knowledge required for advanced innovations in Data Science.
VISION
To be a leading Computer Science and Engineering department that prepares graduates to innovate and transform society through the power of technology.
Mission
To provide a transformative education that equips students with the knowledge, skills, and mindset to excel in the rapidly-evolving field of Computer Science and Engineering. We are dedicated to conducting impactful research, promoting diversity and inclusion, and collaborating with industry and other stakeholders to advance the field and address real-world challenges.
OPPORTUNITIES
CIVIL Engineering is such a course which is very much flexible when job opportunities are concerned. Today's India is growing and accordingly infrastructures like road,buildings,highways are also increasing high. Civil engineers conceive and manage the physical infrastructure and environmental protection systems of our society. They design, plan, construct and manage physical facilities, including roadways, dams, buildings and pipelines. They may own a construction firm, be a partner in a consulting company, or work for a government agency or corporation. They can find work anywhere in the world, because there are needs for physical facilities everywhere.The campus interviews program will be taken care and monitored by our special placement cell.
OBJECTIVE
To propagate and disseminate knowledge in CSE-DATA SCIENCE discipline to the society through the student and faculty. To encourage students to serve social causes by Application of their specialized knowledge paving way to Better life for Humanity. To promote the concept of lifelong learning among faculty members
DEPARTMENT ACTIVITIES
The department encourages the faculty members to undertake research activities. The department is equipped with state-of-art laboratories and the computers have sophisticated development software tools. The department provides training to its students in advanced technologies like .NET, FLEX, Data Warehousing, Data Mining tools and Data storage systems as a supplement to the curriculum to enhance the employability of students. The department conducted various workshops with collaboration of JKC, IBM, Infosys, Emc2. Our senior faculty members are the members of Computer Society of India, ISTE, IEEE