Efficient nurturing, training and development of the students help them mold their personality, meet the market needs, and excel in the competitive environment. Students are supported and facilitated through various capability enhancement and development schemes to make a contribution to the society and at their work place. These schemes are the stimulating factors in getting the students corporate-ready and become responsible human beings.
Orientation and seminars about competitive exams are organized every year for third and fourth year students for GATE, GRE, GMAT and ICET exams by TIME institute.
Career guidance and Counselling for higher studies was arranged in collaboration with "My Dream Campus", "Indo American Studies Pvt.Ltd" etc
Soft skills Development Programmers were conducted for faculty and students by Ms.DevikaBhatnagar, in the areas of Personality Development, Goal Setting, Communication Skills and Body Language.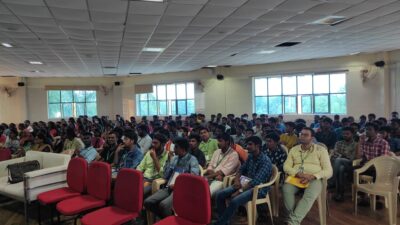 4. ICT Academy also organized an FDP in Soft skills and Personality Development.
5. Remedial classes are conducted for slow learners in all subjects by identifying difficult concepts. The academic and professional competencies of the students are enhanced.
6. Our language laboratory has K-VAN software to make language learning more effective. It helps the students to learn Pronunciation and aids in self examination and self correction. They are given training in components like Pronunciation with proper stress and intonation, Situational dialogues, Role-plays, Debates and other oral presentation skills.
7. Bridge Courses in interdisciplinary and core subject areas are offered for reinforcing learning and domain knowledge necessary for academic progress.
8. Yoga and Meditation is essential to keep in good health and make one self stress free. Awareness and training programmers are conducted for staff and students periodically by a Trainer. International Yoga Day is celebrated every year to promote the spirit of well being.
9. Personal counselling can help students to analyze their strengths and weaknesses and confront the challenges with a positive attitude. Batches of twenty students are assigned to each counsellor and a record of the mentoring process is maintained for four years.
---
© Copyright All Right Reserved 2023, Pallaviengineeringcollege.ac.in