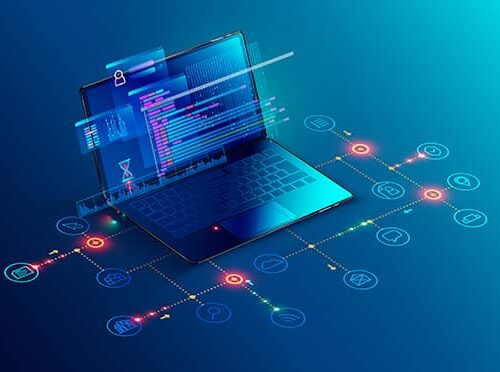 DEPARTMENT OF COMPUTER SCIENCE & ENGINEERING
Today's economy is emerging to be a data driven one. With increasing digitalization, the contemporary businesses, industries and even the prominent areas of research require specialists in the field of Data Science. Data Science concerns with complete lifecycle of data right from data generation to final actionable inferences with several intermediate steps such as data processing, reporting, prediction, visualization. Data Science leverages science of Data Analytics with the upcoming technologies like Big Data, Machine Learning and Cloud Computing.
Department of Computer Sci. and Engineering with Data Science is a four year full time undergraduate program to impart skills and knowledge required for advanced innovations in Data Science.
VISION
To develop as a Center of Excellence in the diverse areas of computer sciences through teaching, innovation, research and collaboration thereby addressing the global challenges of emerging needs of the society.
MISSION
To apply knowledge in solving complex problems concern to the industry in multidisciplinary fields.
Develop domain and research skills that enable them to undertake challenging careers and pursue Higher Education
Imbibe morals and values among students for developing a strong professional etiquette and with a zeal for continuous learning.
OBJECTIVE
To propagate and disseminate knowledge in CSE-DATA SCIENCE discipline to the society through the student and faculty. To encourage students to serve social causes by Application of their specialized knowledge paving way to Better life for Humanity. To promote the concept of lifelong learning among faculty members
CAREER OPPORTUNITIES
Software Engineer, Data Manager, Data Scientist, Data Analyst, Product Analyst, System Analyst, Software Quality Assurance Analyst, Information Security Analyst, Machine Learning Engineer, Machine Learning Architect, Artificial Intelligence Engineer, Application Developer and Entrepreneur.
DEPARTMENT ACTIVITIES
The department encourages the faculty members to undertake research activities. The department is equipped with state-of-art laboratories and the computers have sophisticated development software tools. The department provides training to its students in advanced technologies like .NET, FLEX, Data Warehousing, Data Mining tools and Data storage systems as a supplement to the curriculum to enhance the employability of students. The department conducted various workshops with collaboration of JKC, IBM, Infosys, Emc2. Our senior faculty members are the members of Computer Society of India, ISTE, IEEE
---
© Copyright All Right Reserved 2023, Pallaviengineeringcollege.ac.in