DR. M. B. RAJU, M. Tech & Ph.D. Principal of Pallavi College of Engineering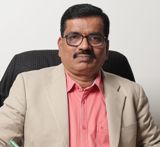 DR. M. B. RAJU,
M. Tech & Ph.D. Principal of Pallavi College of Engineering
Dr. M.B. Raju completed his B. E from Osmania University, M. Tech & Ph.D from JNTUH, Hyderabad. He has vast experience of 28yrs in academics as well as administration. He is a resource person for various academic institutions and serving as a member of many expert committees. He has impressive academic credentials and has vast experience in Research & Development areas. Under his able guideship scholars from JNTUH, JNTUK, JNTUA and Osmania University are pursuing their Ph.Ds and 05 have been awarded their degree.
His career profile speaks of his administrative skills for which he has been honored with "Best Principal" award. Many projects were successfully completed under his supervision. He has authored 20 National and International research papers, 70 Journals, 02 books and also owns a patent. He is a member of TSECET, Reviewer and Advisory Board Member for various National and international Journals.
The college imparts VALUE CENTERED education, very much the need of the present socio- scenario which requires technology with a human face. PEC continues with its tradition of providing holistic education. We have a high intensity and a high impact academic program that keeps our students interested and excited to learn. The ever greater is imbibed into our students to always strive for higher standards in their professional areas. We aim at discovering the potentials and possibilities amongst our students, promoting innovation and entrepreneurial capabilities. We have already made giant strides in achieving commendable placements for our Engineering Students.
The college has made giant strides since its inception and is rated as one of the growing colleges in twin cities, for the standards it has set and the results it has achieved amongst emerging engineering colleges… A well planned beautifully developed and eco-friendly landscaped campus adds to the learning environment, away from the disturbances of the city life the college is soon going to be an icon for professional education in Engineering in the region.
Research suggests that considering People, place, product, purpose, performance and period of time are the six "P' vision that will differentiate any college from others. Efforts from management will be to focus on these six 'Ps' Supporting the mental health for students stressed by learning gaps and for faculty and staff distraught with changes in teaching, research and administrative functions. Challenge is not just to deliver classes remotely but also deliver experience that has significant value with renewed energy for new ideas, as individuals feel inspired to collaborate and share in securing their future.
To keep up with the fast-paced developments in Engineering and Technology, the college invests in state-of-the-art infrastructure and faculty resources. We at PEC constantly review and refocus our efforts in order to continually bring the best possible, relevant and robust education to our students. We prepare our students in acquiring comprehensive knowledge in inter-disciplinary concepts of Engineering and skills that allow them to be creative, entrepreneurial leaders.
---
© Copyright All Right Reserved 2023, Pallaviengineeringcollege.ac.in