THE INSTITUTION HAS DISABLED-FRIEND BUILT ENVIRONMENT WITH RAMPS/LIFTS FOR EASY ACCESS TO CLASSROOMS:
It has been felt that differently-abled persons need special arrangements in the PEC College premises for their mobility and independent functioning. PEC has architectural barrier free environment that disabled persons find easy for their day-to-day functioning. The college addresses the accessibility relevant issues as per the stipulations of the Persons with Disabilities Act 1995.All the existing infrastructure in the college is disabled-friendly and PEC ensures that the future construction will also be based on the principle of inclusion. The institute has special facilities such as Wheel chairs, Walkers, Lifts, Ramps, Hand Rails, Special Toilets, and other necessary changes to meet the needs of differently-abled persons.
PHYSICAL FACILITIES:
The classes for differently-abled students are conducted on the ground floor for their convenience. Mobility devices like Wheel Chairs and Walker are made available in major buildings.
Admission policy:
The institution provides equal educational opportunities to disabled persons in higher education.
The Institution adheres to follow the instructions/Orders/norms set by the University Herewith a policy to follow JNTU Hyderabad admission procedure.
The persons with disabilities (Equal opportunities protection of rights and full participation) Act, 1995 provide that all government Educational institutions and other educational institutions receiving aid from the government shall not reserve less than three percent seat for persons with disabilities.
Facilities:
For physically disabled students ramps/ elevators are provided for their easy access to all facilities on different floors and separate rest rooms to disabled students.
In addition to the above minimum needs, the institution is ready to provide wheelchairs, care is taken to allot ground floor classrooms and other classrooms have elevators accessibility.
PEC ensures a disabled-friendly physical infrastructure as per Annexure 'A' existing infrastructure to be dealt with in a phased manner.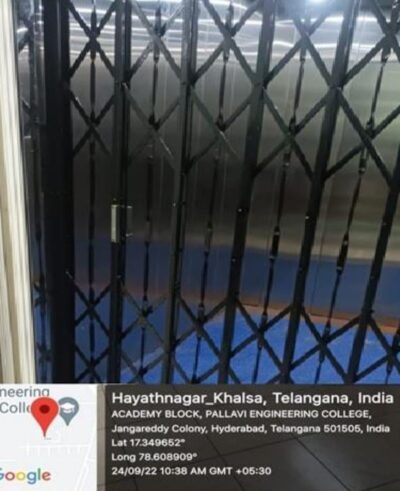 ---
© Copyright All Right Reserved 2023, Pallaviengineeringcollege.ac.in