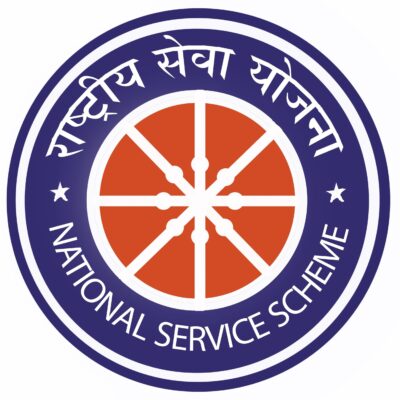 National Service Scheme (NSS)
About National Service Scheme (NSS)
The National Service Scheme (NSS) is a Central Sector Scheme of Government of India, Ministry of Youth Affairs & Sports. It provides opportunity to the student youth of 11th & 12th Class of schools at +2 Board level and student youth of Technical Institution, Graduate & Post Graduate at colleges and University level of India to take part in various government led community service activities & programmers' sole aim of the NSS is to provide hands on experience to young students in delivering community service. Since inception of the NSS in the year 1969, the number of students strength increased from 40,000 to over 3.8 million up to the end of March 2018 students in various universities, colleges and Institutions of higher learning have volunteered to take part in various community service programs.
NATIONAL SERVICE SCHEME CELL
Objective:
Development of the personality of students through Community Service:
To work with / among people.
To engage in creative and constructive social action.
To enhance his/her knowledge of himself / herself and the community.
To put his/her scholarship to practical use in mitigating at least some of the problems.
To gain skill in the exercise of democratic leadership.
To gain skills in program development to enable him/her for self-employment.
To bridge the gulf between the educated and the uneducated masses.
To promote the will to serve the weaker section of the community.
Roles & Responsibilities of Coordinator
Motivating the NSS students to indulge in community service using senior NSS students.
Maintain a record of volunteer participation and program undertaken by NSS volunteers on different occasion.
Activities like blood donation camp, campus cleaning; various awareness programs shall be organized in association with different clubs.
Develop students a sense of social and civic responsibility through community engagement
Identification and adoption of villages as per university regulation.
To design, plan and execute special camp activities at adopted villages.
Felicitate request from various government/ private organization for volunteers.
Awareness Program like International yoga day, rally, road safety day, Swachh Bharat, Kavalan application, AIDS, Women's Day, International Mother Language days etc., and also important days are observed..
To identify the students (NSS volunteers and other members).
Record the activities of regular and special camp systematically.
Roles and Responsibilities of the NSS Members
All volunteers shall work under the guidance of the group leader nominated by the programme officer All Department Heads
They shall make themselves worthy of the confidence and cooperation of the group /community leadership.
They shall scrupulously avoid entering into any controversial issues.
They shall keep day-to-day record of their activities / experience in the enclosing pages of the diary and submit to the Group Leader/ Program Officer for periodic guidance.
Identify needs. Problems and resources of the community.
Plan Programmes and carry out the plans.
Relate his learning and experience towards finding solutions to the problems identifies.
Record the activities in his work diary symmetrically and assess the progress periodically and effect changes as and when needed.
Meeting Frequency:
The committee will meet twice in every semester/ 4 time in a year during the month of June, August, December and March or whenever required.
Tenure: The Committee will hold responsibilities for a term of three Consecutive Academic years.
Composition

1. Principal – Chairman

2. Senior Faculty nominated by Principal – Convener

3. Three Faculty nominated by Principal – Coordinator

4. CSE Senior Faculty- Member

5. One coordinator from each department as nominated by HOD – Members

S. No.
Name of the Faculty
Department & Designation
Roll in the Committee
Contact No. / E-Mail ID
1
Dr. M. B. Raju
Principal
Chairman
9247755185
principal@pallaviengineeringcollege.ac.in
2
Mrs. Kavitha Kotte
Hod – MBA
Convener

9000685749

3
G SRIKANTH
Asst. Professor – CE
Coordinator NSS

9959072661

4
Mr. G Praveen
Asst. Professor – MBA
Coordinator NSS

9494041425

5
Mr. B Sreenu
Asst. Professor –EEE
Coordinator NSS

9849161206

6
Mr. B Narender reddy
Asst. Professor – ECE
Member

9010740370

7
Mrs. J Usha Sri
Asst. Professor -H&S
Member

9849682602

8
Mrs. M Nagamani
Asst. Professor –CSE
Member

8897575042
---
© Copyright All Right Reserved 2023, Pallaviengineeringcollege.ac.in